MOELLER MUSIC EVENTS
Traditional Wedding Ceremonies
Paul and Kerena Moeller provide the finest ceremony music for traditional weddings in Chicago.
---
---
Whether you are planning an intimate candlelight ceremony, a church wedding, or an outdoor ceremony by the lake, Paul and Kerena Moeller will bring the utmost in musical excellence to your affair. Their versatile repertoire includes a broad range of musical styles that are very well suited for traditional styled ceremonies.
Before your big day, Paul and Kerena will take the necessary time to help you choose a musical program that will compliment your personal style. Their careful planning will insure that all the wedding processions and entrances flow seamlessly from beginning to end.
At a typical wedding ceremony, music is usually provided during the following segments:
– Thirty minutes of prelude music before the ceremony begins as guests are being seated.
– Processional of the wedding attendants.
– Seating of the mothers of the bride and groom.
– Bridal Party's Processional.
– The Bride's Processional.
– Unity Candle, Communion, Reflection, Rose Ceremony.
– Recessional or exit music following the presentation of the newly married couple.
– A short postlude of joyous music as your guests leave the ceremony.
Generally, a one hour contract will cover all of the above listed segments.
CEREMONY AND COCKTAIL HOUR COMBINATION
---
Many couples recognize the added value of hiring the Moeller's to perform for their cocktail hour immediately following the ceremony. You can relax knowing that your event will flow seamlessly as they will be there to see that everything is taken care of from the first arrival of your guests up to just before your grand entrance at the reception. Paul and Kerena provide a wonderful variety of cocktail music ranging from swing standards to current pop favorites. Please click on to the Cocktail Hour page to learn more.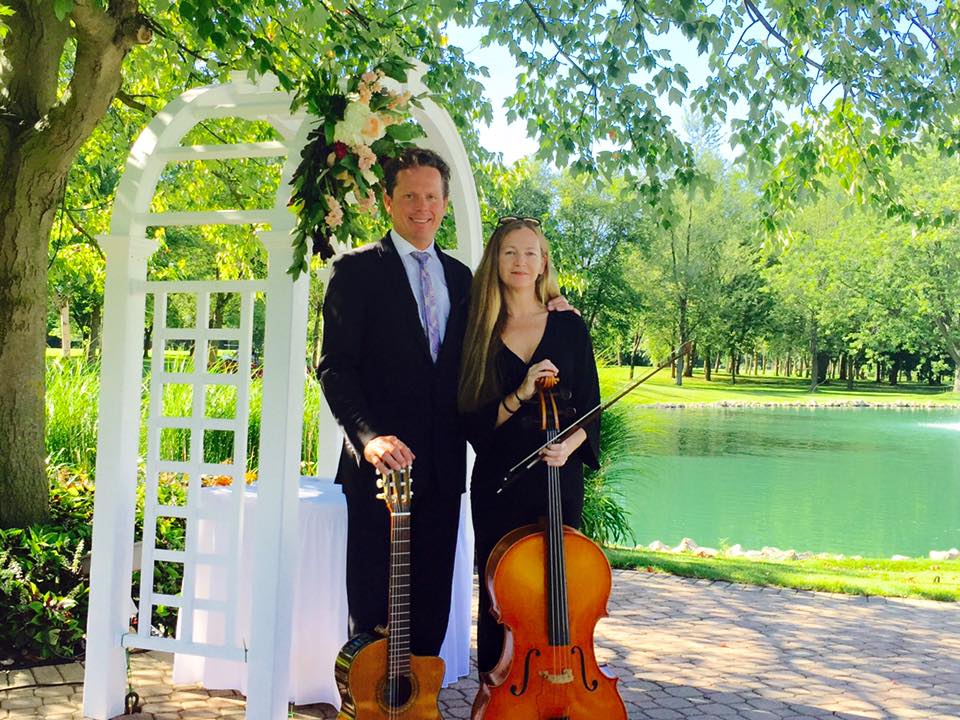 Traditional Ceremony Play List
---
Canon in D - Pachebel
Bridal Chorus - Richard Wagner
Wedding March - Felix Mendelssohn
Arioso - Johann Sebastian Bach
Air on a G - Johann Sebastian Bach
Jesu, Joy of Man's Desiring - J. S. Bach
Ave Maria - Johann Sebastian Bach
Prelude from Cello Suite I - J. S. Bach
Ave Maria - Franz Schubert
Claire De Lune - Debussy
The Swan - Saint-Saens
Cavatina - Stanley Myers
Lakme - L. Delibes
Con Te Partiro - Andrea Boccelli
Gymnopedie No. 1 - Erik Satie
Intermezzo - Mascagni
O, Mio Babbino Caro - Giacomo Puccini
Quando Men Vo - Giacomo Puccini
Ode To Joy - Ludwig van Beethoven
Pathetique Sonata - Ludwig van Beethoven
Hymne - Vangelis
Meditation from Thais - Jules Massenet
Air from the Water Music Suite - G.F. Handel
Pavane - Maurice Ravel
Pavane - Gabriel Faure
Le Rejouissance - Handel
Hornpipe - Handel
Trumpet Voluntary - Jeremiah Clarke
Trumpet Tune - Henry Purcell
Concerto in D Major – 2nd Mvt - Vivaldi
The Four Seasons: - Spring- 1st & 2nd Mvts.
The Four Seasons: - Autumn- 3rd Mvt.
Allegro from the Mandolin Concerto
Sonata in E Major - D. Scarrlatti
Moonlight Sonata - Beethoven
Edelweiss From "Sound of Music"
Allegro - Jean-Marie Leclair
Romanza - Mozart
Theme From Sonata XVI
River Flows in You - Yiruma
Suo Gan - Welsch Lullaby
All I Ask Of You - Andrew Lloyd Webber
Candle on The Water - From "Pete's Dragon"
Pelagia's Song - From "Captain Corelli's Mandolyn"
Download Our Master Song List. Click HERE!
Canon in D - Full Version