MOELLER MUSIC EVENTS
Contemporary Wedding Ceremonies
Paul and Kerena Moeller provide the finest ceremony music for contemporary weddings in Chicago.
---
---
Choosing the right musical selections for your wedding ceremony can be very difficult. After all, the music you choose will help convey the right mood and feeling that reflects you as a couple. If you have decided that traditional selections from master composers such as Bach, Beethoven and Wagner just isn't your style, Paul and Kerena have an extensive repertoire of contemporary musical selections that will capture your spirit and be every bit as meaningful.
With so many ceremonies taking place at unique locations throughout region, it seems only natural that more and more couples are choosing selections of music that show a little personality and fun. Although music is constantly changing from season to season, Paul and Kerena have put together a play list comprised of the best contemporary selections of music that will compliment your style and taste beautifully.
At a typical wedding ceremony, music is usually provided during the following segments:
– Thirty minutes of prelude music before the ceremony begins as guests are being seated.
– Processional of the wedding attendants.
– Seating of the mothers of the bride and groom.
– Bridal Party's Processional.
– The Bride's Processional.
– Unity Candle, Communion, Reflection, Rose Ceremony.
– Recessional or exit music following the presentation of the newly married couple.
– A short postlude of joyous music as your guests leave the ceremony.
Generally, a one hour contract will cover all of the above listed segments.
CEREMONY AND COCKTAIL HOUR COMBINATION
---
Many couples recognize the added value of hiring the Moeller's to perform for their cocktail hour immediately following the ceremony. You can relax knowing that your event will flow seamlessly as they will be there to see that everything is taken care of from the first arrival of your guests up to just before your grand entrance at the reception. Paul and Kerena provide a wonderful variety of cocktail music ranging from swing standards to current pop favorites. Please click on to the Cocktail Hour page to learn more.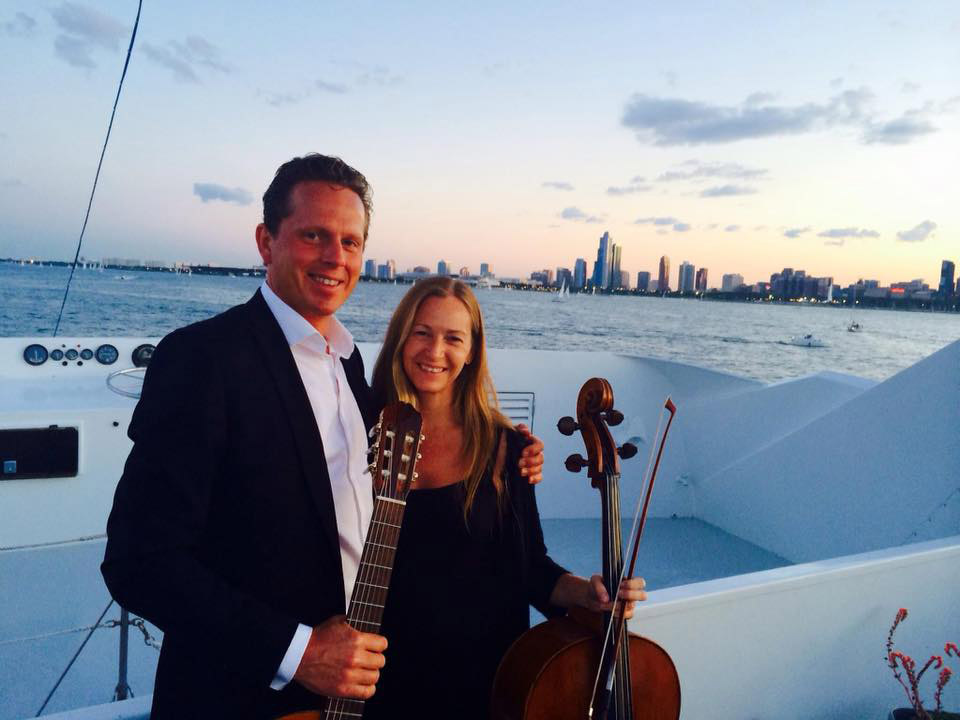 Contemporary Ceremony Play List
---
A Thousand Years - Christina Perri
Only Time - Enya
Marry Me - Jason Derulo
Marry Me - Train
Time After Time - Cyndi Lauper
Main Titles - From "Cider House Rules"
Count on Me - Bruno Mars
Just the way you are - Bruno Mars
Without You - David Guetta
Flightless bird, American Mouth
Latch (Acoustic) - Sam Smith
The Blower's Daughter - Damien Rice
All I Want Is You - U2
Beautiful Day - U2
Halo - Beyonce
The One I Love - David Gray
Story Book Love (The Princess Bride)
The Book of Love - Peter Gabriel
Ours - Taylor Swift
Two is Better Than One - Taylor Swift
Love Story - Taylor Swift
Stuck Like Glue - Sugarland
Lay me Down - Sam Smith
I Won't Give Up - Jason Mraz
I'm Yours - Jason Mraz
Then - Brad Paisley
She's My Kind of Rain - Tim McGraw
It's Your Love - Tim McGraw
When You Say Nothing at All - Alison Krauss
You are the sun - Sara Groves
Better Together - Jack Johnson
I Will Be Here - Steven Curtis Chapman
The Prayer - Steven Curtis Chapman
Be Still and Know - Steven Curtis Chapman
You Raise Me Up - Josh Groban
When You Say You Love Me - Josh Groban
Wanted - Hunter Hayes
Transatlanticism - Death Cab for Cutie
I Will follow you into the dark - Death Cab for Cutie
I Choose You - Sara Bareilles
Making Memories of Us - Keith Urban
Bring it On Home - Little Big Town
Whale and Wasp - Alice In Chains
Lead Me To The Cross - Hillsong
Wanted - Hunter Hayes
Turning Page - Twilight
Feels Like Home - From "The Notebook"
Kissing You - From "Romeo and Juliet"
Little Wonders - Rob Thomas
A Moment Like This - Kelly Clarkson
I Love N.Y.E. - Badly Drawn Boy
You and Me - Lifehouse
You and Me - Dave Mathews
The Space Between - Dave Mathews
Stay or Leave - Dave Mathews
I Want You - Bob Dylan
Tomorrow Is A Long Time - Bob Dylan
Never Going Back - Fleetwood Mac
Songbird - Fleetwood Mac
Shut up and Dance With Me - Walk the Moon
She's a Rainbow - The Rolling Stones
Lullaby - Dixie Chicks
Heartbeats - Jose Gonzales
Dog Days are Over - Florence and the Machine
I won't let go - Rascal Flatts
Feels Like Today - Rascal Flatts
Bless the Broken Road - Rascal Flatts
I Do - Colbie Caillat
Emmylou - First Aide Kit
Home - Edward Sharpe
Send Me On My Way - Rusted Root
You are the best thing - Ray LaMontagne
Little Lion Man - Mumford and Sons
For the Dancing and the Dreaming - from How to train a Dragon 2
Wouldn't it be Nice? - Beach Boys
I Won't Let Go - Rascal Flatts
Down in the valley - Head and the Heart
Luna - Smashing Pumkins
Tonight, Tonight - Smashing Pumkins
1979 - Smashing Pumkins
Feels Like Home (From Michael) - Randy Newman
Kiss Me - Sixpence none the richer
Who I Am - Brett James
I'm Gonna Be - The Proclaimers
Where is my mind - Pixies
From Where You Are - Jason Wade
The Way I Am - Ingrid Michaelson
Walking on Sunshine - Kimberly rew
My wish - Rascal Flatts
Everlong - Foo Fighters
You make my dreams - Hall and Oats
What is This - Mary Mary
You are the Sun - Sara Groves
I Will Love You - Fisher
The Sweetest Gift - Sade
At My Most Beautiful - R.E.M.
Edelweiss - Sound of Music
Forrest Gump Suite - Alan Silvestri
Happy Ever After in Your Eyes - Ben Harper
From This Moment On - Shania Twain
A Sky Full of Stars - Coldplay
Green Eyes - Coldplay
Clocks - Coldplay
Yellow - Coldplay
Viva La Vida - Coldplay
The Scientist - Coldplay
Magic - Coldplay
Thank You - Dido
Forever and Ever, Amen - Randy Travis
Heavenly Day - Patty Griffin
Upside Down - Jack Johnson
You Raise Me Up - Josh Groban
The Luckiest - Ben Folds
Still Fighting It - Ben Folds
Whiter Shade of Pale - Procal Harum
Theme from Forrest Gump Suite - Alan Silvestri
Tuesday's Gone - Lynyrd Skynyrd
From This Moment On - Shania Twain
Do You Realize - Flaming Lips
Waiting For You - Ben Harper
Happy Ever After In Your Eyes - Ben Harper
Power of Two - Indigo Girls
She - Elvis Costello
If I Should Fall Behind - Bruce Springsteen
Somebody - Depeche Mode
Chicago - Sufjan Stevens
1,2,3,4 - The Plain White T's
Only You - Joshua Radin
Songbird - Fleetwood Mac
Somebody - Depeche Mode
The Wedding Song (There is Love) - Paul Stookey
Somewhere Over The Rainbow - Israel Kamakawiwo
Wouldn't it Be Nice - The Beach Boys
God Only Knows - The Beach Boys
Angels - Robbie Williams
Such Great Heights - The Postal Service
Hoppipolla - Sigur Ros
Come Away With Me - Norah Jones
Fields of Gold - Sting
More Than Words - Extreme
Every Little Thing She Does Is Magic - The Police
Wonderful Tonight - Eric Clapton
Chasing Cars - Snow Patrol
Forever and Ever, Amen - Randy Travis
Forever - Kari Jobe
The Rainbow Connection - from the Muppet Movie
I'm A Believer - Niel Diamond
Old Pine - Ben Howard
She (from Notting Hill) - Elvis Costello
Ride - The Cary Brothers
You are the best thing - Ray LaMontagne
Fourfiveseconds - Rihanna
Holocene - Bon Iver
Lullaby - The Dixie Chicks
Little Wonders - Rob Thomas
The Prayer - Celine Dion and Andrea Bocelli
My Heart Will Go On - Celine Dion
Because You Loved Me - Celine Dion
The Power Of Love Celine Dion
The Prayer - Celine Dion
Once Upon A Time…Storybook Love - Mark Knopfler
Ashokan Farewell - Jay Unger
Walking on Sunshine - Katrina and the Waves
Thank You - Dido
A Moment Like This - Kelly Clarkson
Before Your Love - Kelly Clarkson
Only Hope - from "A Walk to remember"
Now and Forever - Richard Marx
This I promise You - Richard Marx
Make You Feel My Love - Bob Dylan
Can You Feel The Love Tonight - Elton John
Your Song - Elton John
Endless Night - Elton John
A Whole New World (Disney) - from Aladdin
I've Had the time of my life - from Dirty Dancing
I Got A Feeling - Black Eyed Peas
Love Song - Tesla
You're My Best Friend - Queen
Chapel of Love - Phil Spector
Once upon a time…storybook love - Mark Knopfler
Amazed - Aerosmith
I Don't Want to Miss a Thing - Aerosmith
Into the Mystic - Van Morrison
Dancin in the moonlight - Van Morrison
Sweet Child o' Mine - Guns and Roses
Patience - Guns and Roses
That's All - Genesis
Against All Odds - Phil Collins
Annie's Song - John Denver
Maybe I'm Amazed - Paul McCartney
Calico Skies - Paul McCartney
Here Come The Sun - The Beatles
The Fool on the Hill
All You Need Is Love
Yesterday
Across the Universe
Blackbird
I Will
Eleanor Rigby
Hey Jude
In My Life
Lucy In The Sky With Diamonds
Michelle
Here, There & Everywhere
When I'm Sixty Four
With A Little Help From My Friends
Let It Be
Good Day Sunshine
Something
Imagine - John Lennon
Love
Grow Old With Me
Annie's Song - John Denver
I can see Clearly Now - Johnny Nash
The Hawaiian Wedding Song
True Colors - Cyndi Lauper
Kissing You From Romeo and Juliet
The Book of Love
Wonderful Tonight - Eric Clapton
Forever and Ever Amen
I'll Stand By You - The Pretenders
Stand By Me - Ben E. King
Dee - Randy Rhodes
My Girl - Smokey Robinson
Happy Together - The Turtles
I Can't Help Myself
I'll Be There
Fire And Rain - James Taylor
How Sweet it is (to be loved by you) - James Taylor
Can't Help Falling In Love - Elvis
You Are So Beautiful - Preston/Fisher
God Only Knows - The Beach Boys
Don't Cry For Me Argentina - Andrew Lloyd Weber
Scarborough Fair - Paul Simon
Bridge Over Troubled Water - Paul Simon
Bookends - Simon and Garfunkel
Forest Gump Theme - Alan Silvestri
Wonderful Tonight - Eric Clapton
I Say A Little Prayer - Burt Bacharach
Moon River - From "Breakfast at Tiffany's"
Unchained Melody - Righteous Brothers
You've Got A Friend - Carole King
Longer - Dan Fogelberg
She's Always A Woman - Billy Joel
Just The Way You Are - Billy Joel
You're My Home - Billy Joel
You Make Me Feel Love - Bob Dylan
You've Got A Friend - Carole King
My Girl - Smokey Robinson
You are the Sunshine of My Life - Stevie Wonder
Signed, Sealed, Delivered I'm yours - Stevie Wonder
Isn't She Lovely - Stevie Wonder
My Cherie Amour - Stevie Wonder
For Once in My Life - Stevie Wonder
Now and Forever - Richard Marx
Right Here Waiting - Richard Marx
Against All Odds - Phil Collins
I Can't Help Myself - The Four Tops
Rose Of My Heart - Johnny Cash
I'll be There - Maria Carey
Somewhere - Leonard Bernstein
Maria
America
Tonight
One Hand, One Heart - from "Westside Story"
Music of the Night - Andrew Lloyd Webber
Unchained Melody - The Righteous Brothers
I Can See Clearly Now
Stolen - Dashboard Confessional
Hands Down - Dashboard Confessional
She Will Be Loved - Maroon 5
Time of My Life - from Dirty Dancing
Sucha Woman Niel Young
This Will Be and Everlasting Love - Natalie Cole
Unforgettable - Nat King Cole
Africa - Toto
Dreams - Cranberries
Morning has broken - Cat Stevens
Glasgow Love Theme - Craig Armstrong
Moon River - Breakfast at Tiffany's