MOELLER MUSIC EVENTS
Cocktail & Dinner Hours
Moeller Music is the perfect choice for your cocktail and dinner hours.
---
---
There is no question that Paul and Kerena Moeller are one of the area's most sought after classical duos for ceremonies – but did you know that they can also add the perfect touch to your cocktail or dinner hour? This talented duo has the extraordinary ability to provide you with the perfect blend of songs from every musical period. Whether it be tasteful selections of classical instrumentals, sophisticated jazz standards or well known popular favorites, your guests will truly be truly delighted by the rich ambience they create.
There are many benefits to having Paul and Kerena stay to perform for your cocktail and/or dinner hour. They will perform music in an upbeat, contemporary style that creates a great mood while maintaining the elegance you desire. They will be professional and courteous to you and your guests, and will see to it that all of your details are carried through to perfection.
For intimate gatherings Paul & Kerena can perform acoustically. However, for most events they provide their own high quality amplification system. There is no set up fee. In addition to the exquisite classical selections on the "ceremonies" page, take a moment to preview a few of the many Popular and Jazz selections listed above. The Moeller's can perform music in the style of your choice as your guests first arrive at your facility. I'm sure that you will agree that Paul and Kerena will add a special touch to the start of your celebration.
CEREMONY AND COCKTAIL HOUR COMBINATION
---
Many couples recognize the added value of hiring the Moeller's to perform for their cocktail hour immediately following the ceremony. You can relax knowing that your event will flow seamlessly as they will be there to see that everything is taken care of from the first arrival of your guests up to just before your grand entrance at the reception. Paul and Kerena provide a wonderful variety of cocktail music ranging from swing standards to current pop favorites. Please click on to the Cocktail Hour page to learn more.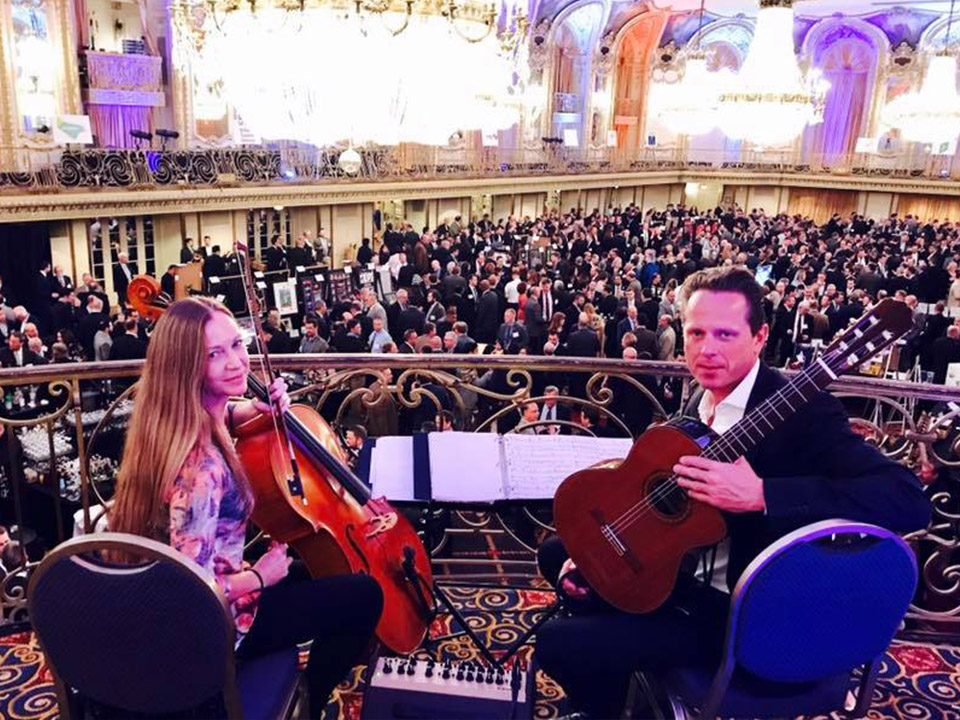 Cocktail & Dinner Hours Play List
---
All The Things You Are - Kern/Hammerstein
All Of Me - Simons/Marks
A Sunday Kind of Love
Besame Mucho - Consuelo Velazquez
What a Wonderful World - Armstrong
You are So Beautiful
All the Things You Are - Kern
As Time Goes By - Hupfeld
I Got Rhythm - Gershwin
Summertime - Gershwin
They Can't Take That Away From Me
Someone To Watch Over Me - Gershwin
The Man I love - Gershwin
My Favorite Things - Rodgers
Fascinating Rhythm - Rogers
Stormy Weather - Rogers
Cheek To Cheek - Irving Berlin
What'll I Do - Irving Berlin
Blue Skies - - Irving Berlin
Stormy Weather - Johnson
Singin' In The Rain - Johnson
So Nice (Summer Samba) - Johnson
The Girl From Ipanema - Jobim
How Insensitive - Carlos Jobim
Corcovado - Carlos Jobim
Moon River - Johnny Mercer
In The Mood - Joe Garland
When You Wish Upon A Star
Take Five - Desmond/Brubeck
It Don't Mean a Thing - Duke Ellington
Satin Doll - Ellington
Take the "A" Train - Ellington
Don't Get Around Much Anymore
Sweet Georgia Brown - Casey
Armando's Rumba - Chick Corea
Night In Tunisia - Dizzy Gillespie
Download Our Master Song List. Click HERE!