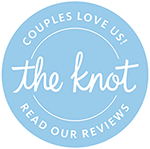 Raves
Below are some of the latest reviews that we have received through The Knot wedding channel. Thank you to all of the special couples that trusted us with their ceremonies. It was an absolute pleasure to serve you on your special day!

Our wedding was held at the Conrad Chicago on Sept. 2, 2017. Paul and Kerena played our ceremony music, which included the 30-minute prelude in addition to the ceremonial music. They did a remarkable job - absolutely brilliant! Paul and Kerena provided the beautiful, elegant touch we were looking for, and many of our guests thought the same as several told us (unsolicited) how beautiful the music was. As a bride, I could not be happier. Paul and Kerena elegantly synchronized both modern (e.g., Can't Help Falling in Love) and traditional (e.g., Canon in D) wedding songs . Paul was my primary contact during the planning process – he was professional, helpful, and responsive every step of the way. It was truly a joy working with such a talented pair of musicians, and I will certainly think of the Moeller Duo for future events. Overall, our experience was fantastic, the music was phenomenal, and our guests were impressed. I highly recommend the Moeller Duo for your wedding ceremony/reception and event! They are incredible.

Paul and Kerena were amazing! One of the things my husband and I cared most about was the music at our ceremony as we are both musicians. We searched forever and came across Paul and Kerena. My grandfather who isn't fond of classical music raved about how great these two were. They are also really easy to work with. I definitely recommend using them for a wedding or a special event.

In many ways, the Moellers are most responsible for what everyone loved most about our wedding. I heard from guest after guest that the moment they heard the music, they knew exactly what kind of wedding ours was going to be: romantic, emotional, loving, elegant. The Moellers set the tone for the whole evening and gave all of the guests an idea of what to expect. They helped to create an atmosphere of calm, beauty, and romanticism that we still talk about months later. They play incredibly beautifully - they are so skilled and passionate and clearly love what they do. I admit now to being somewhat naive about wedding music - I didn't realize how critical it is to have musicians who work to understand a ceremony, who know exactly how to read the cues, to fill gaps and anticipate the natural in-the-moment changes that unpredictable ceremonies inevitably require. They helped make everything appear seamless even when it wasn't. Everyone sensed this - so many friends commented on how perfect and moving their music was. I decided against having "songs" and really trusted that more subtle classical pieces would set a mood and keep everyone's focus on the overall ceremony rather than trying to pick out familiar melodies. This ended up being a great decision, because we were in the hands of accomplished musicians who understand how music should set and fit the mood of a wedding. Finally, let me say that the Moellers are kind and genuine people. This is evident in their professional interactions and in their music. I found them by simply doing a Google search and it was the best, easiest, and most successful of all the decisions I made in planning our wedding. I am so grateful to them for what they contributed to an unforgettable day, and I cannot recommend them highly enough.

We booked one of the Moeller's cello/classical guitar duos for our outdoor ceremony. They provided about 30 minutes of prelude music and our ceremony music. I am a music teacher and clarinetist, so the music was super important to me, and I was thrilled with their performance. My aunt and uncle are professional clarinetists, so they also played, and my aunt and I arranged some special pieces for the processional, unity candle, and recessional. The musicians were totally willing to learn our arrangements and perform with my family members. They showed up early enough to do a sound check and run through a few things, which was great. I felt like time was standing still when I was processing down the aisle-the cellist was just soaring. It was absolutely beautiful. We were very happy with the level of musicianship, professionalism, and flexibility (it randomly rained for about a minute like half an hour before our ceremony and they had to run inside to protect the instruments, luckily there were blue skies by the time it started!). The musicians provided the perfect musical accompaniment to our special day!

HIGHLY Recommend! Moeller Music Met and exceeded all of our expectations! We asked for custom music at our wedding and they delivered!! We were overwhelmed with the outdoor of praise from our wedding guests. Professional, timely, flexible, affordable, and unforgettable! I would definitely recommend for weddings, banquets, etc. they were a dream to work with!!

Moeller provided the pre-ceremony and ceremony music for our wedding in May 2018. The music was absolutely beautiful - we are still getting compliments to this day! They were so easy to work with and are incredibly talented musicians. I highly highly recommend Moeller for any live music at your wedding!

The Moellers played at our wedding on November 9th. They played during the ceremony and cocktail hour. Paul was so easy to work with during the planning process. He was professional and extremely responsive. They are both so talented and the music was beautiful! I recommend The Moeller Duo to anyone that is looking for musicians for their wedding!

Our ceremony music and cocktail hour music was impeccable, thanks to Moeller Music!! They were punctual, professional, and so easy to work with. Any questions/emails, they responded so quickly. We never had a worry with them. We asked them to learn a new song for our ceremony and it was more beautiful than I imagined it would be. We highly recommend using Moeller Music for any events!!

Paul and Kerena did an amazing job at our ceremony and cocktail hour! While I was pretty distracted as the bride, I do remember the music and how it made our ceremony so much more beautiful. The couple was extremely responsive and helpful via email and made us feel so confident going into the big day.